A guide to buying cannabis seeds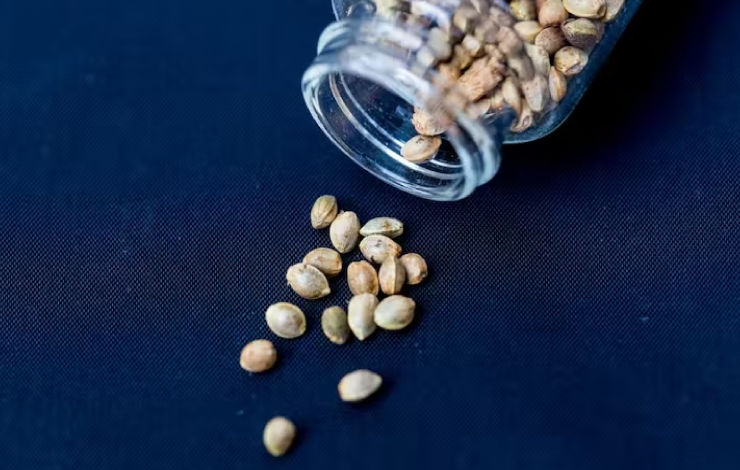 The first couple months of the year is a great time to start planning your cannabis garden to get a head start on the outdoor growing season, which roughly runs from March to November, depending on where you live.
Navigating the cannabis seed market can be challenging when states have different degrees of legality. This guide will answer your questions on buying seeds so you can be on your way to growing your own cannabis.
Is it legal to buy marijuana seeds?
Marijuana seeds are considered a cannabis product just like flower, edibles, and concentrates. Their legality depends on which state you live in. People living in states with adult-use legalization can buy, produce, and sell seeds within their own state, but seeds can't cross state lines. People living in states with medical marijuana legalization can only buy seeds if they have a medical card.
Seed banks exist outside of the US and can sell them for "souvenir purposes," but it is illegal to bring seeds into the US and Customs will seize any cannabis seeds they find in packages or on a person.
An update on laws that affect buying weed seeds
In April 2022, the DEA released a letter clarifying the legality of cannabis seeds. A lawyer wrote the DEA, arguing that because a cannabis seed itself contains less than 0.3% THC, they should be considered hemp, which was legalized in 2018.
The lawyer's argument was that the material itself—the seed—was less than 0.3% THC, whereas the law has always considered weed seeds illegal because they will turn into a cannabis plant that will have more than 0.3% THC.
The DEA wrote back to the lawyer agreeing, and saying that if a marijuana seed contains less than 0.3% THC, it is not a controlled substance.
However, the letter from the DEA is an "official determination" and not law. The legality of buying and transporting cannabis seeds across state lines is still murky, but the DEA's position does pave the way for more relaxed laws on weed seeds.
Where can I buy cannabis seeds?
Many world-renowned seed banks are overseas in the Netherlands, the UK, Spain, and other countries where cannabis laws are less restricted, and in recent times, quality seeds banks have popped in legal states in the US. Seed banks provide seeds from a variety of different breeders.
In states with adult-use legalization or a medical marijuana program, you can buy seeds within your own state, either at a dispensary or through a specific seed company's website.
Can you buy cannabis seeds online?
Before you purchase seeds online, you'll need to figure out what strain you want to grow and what breeder you want to buy from.
Because US federal law still technically prohibits cannabis (see update on laws that affect buying weed seeds, above), it can be hard to find information on seed banks and breeders. Breeders who have a long history and positive reputation are usually a good place to start.
Check out our explainer and buying guide to cannabis seed banks for more info on buying seeds.
To get an idea of what well-established breeders look like, check out:
Europe
US
You can also do some research and find an online grow journal that details the whole growing process of a specific strain from a particular breeder. Through these, you'll be able to look over another grower's specific notes and see pictures of the final results.
If you grow some seeds and like the results, try growing another strain from that same breeder and see how it goes.
Do dispensaries sell cannabis seeds?
Some dispensaries in medical and adult-use states sell seeds, but not all. Be sure to check or call ahead to see if they sell seeds. Buying marijuana seeds at the dispensary is far more straightforward, however, your options will be more limited than shopping online.
Dispensary staff should be able to give you information on the seeds they're selling, but keep in mind that a lot of dispensaries focus on selling flower and consumable products. It's a good idea to call ahead and talk to staff to see if they are knowledgeable about seeds and can give you specific information on growing.
How to look for quality genetics when buying marijuana seeds
Breeders talk about "unstable genetics," meaning that a seed's origin is unknown. Make sure that when you buy a packet of seeds that it or the breeder who produced them can list where the seeds came from and how they were crossed and/or backcrossed to get the seed that you hold in your hand. If you can't get a seed's history, it could be anything and the result of poor breeding practices.
An inexperienced breeder might cross a male and a female one time and sell the resulting seeds as a new hybrid strain, but professional breeders usually put their strains through several rounds of backcrossing to stabilize genetics and ensure consistent plants that reflect those genetics.
Which marijuana strain should I grow?
Even one weed plant can produce a lot of buds come harvest time, so make sure you grow a strain you like. Note strains you enjoy when you pick something up at the dispensary or smoke with friends, and look for seeds of it when you want to start growing.
Some strains are easier to grow than others because they are more resistant to mold and pests, so if you're new to growing, you may want to try an easier strain to start.
Some strains also take longer to grow than others. Depending on whether you're growing indoors or outdoors, you may want to grow a quick-finishing marijuana strain if you live in a climate that gets cold and wet early in the season. For example, indicas are known for having a shorter flowering time than sativas.
Check out our lists of different marijuana strains to choose a strain to grow.
What's the difference between regular, feminized, and autoflower seeds?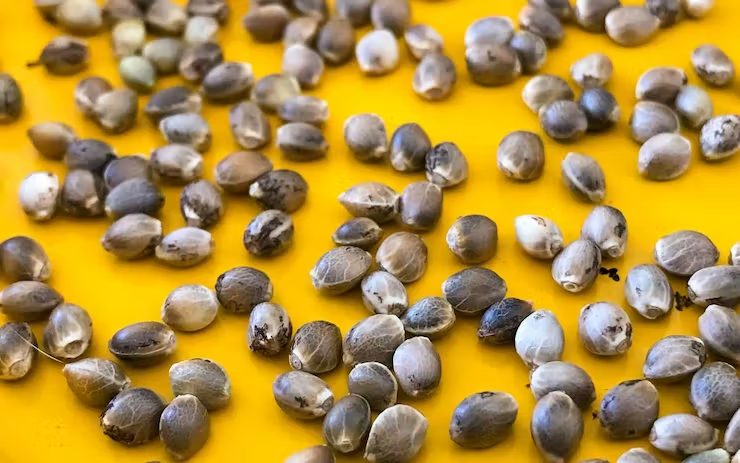 Regular cannabis seeds
If you buy a packet of regular seeds, they'll come with a mix of males and females. A lot of cultivators prefer to grow these because they haven't been backcrossed—essentially inbred—as much as feminized or autoflower seeds.
You'll need to sex out the seeds once their reproductive organs show during the flowering phase and discard the males—because they don't produce buds and will pollenate females, resulting in seeded bud.
What are feminized cannabis seeds?
Seeds can come feminized, meaning you can just put them in soil and start growing for buds. These seeds are guaranteed to be bud-producing females and growing them cuts out the step of having to sex out plants and discard the males.
It also reduces the risk of having a stray male sneak into your crop—just one male can pollinate a huge crop, causing your females to focus their energies on producing seeds instead of buds.
What are autoflower cannabis seeds?
Autoflower plants change from the vegetative to flowering state with age, not the changing of their light cycle. They have a short grow-to-harvest time and can be ready to harvest in as little as 2 ½ to 3 months from when you put the seeds in the ground.
The downside is that, typically, they are less potent, but autoflower seeds are great for people who want to grow cannabis but don't want to spend a lot of time doing it.
How much do marijuana seeds cost?
Cannabis seeds usually come in a pack of 10 or 12 seeds and start at around $40 a pack and go up from there. Some high-end genetics can run between $200 to $500 a pack.
Feminized and autoflower seeds will cost more because more breeding work was put in to create them, and they take less time for the grower to get buds.
How many cannabis seeds should I buy? Are they all going to survive?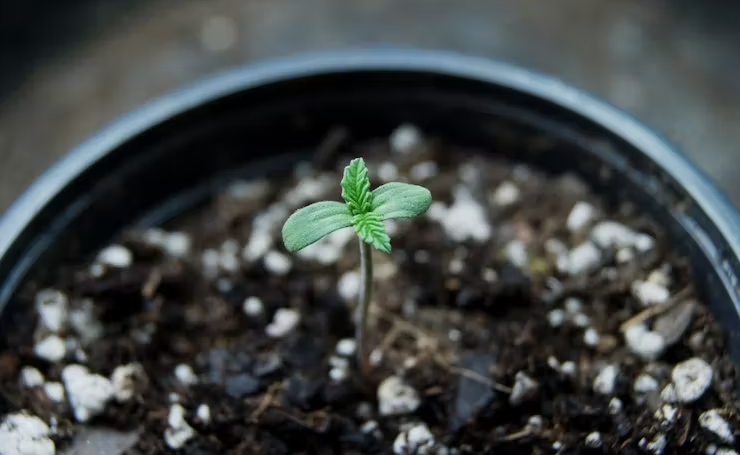 When you grow any amount of seeds, a percentage of them won't germinate, even if you get them from a reputable breeder. Always count on a few not germinating or dying off, or roughly 1/4 of the total you put in the ground.
When growing regular seeds, some won't germinate and some will have to be discarded because they'll turn out to be males. With feminized seeds, some won't germinate, but a higher percentage of them will turn into flowering plants because there won't be any males.
If you want six total cannabis plants to harvest for buds and are growing from regular seeds, start with about 9 or 10 seeds. Some won't germinate and some will turn out to be males, and then you'll want to discard down to the six best phenotypes.
If growing feminized seeds, you can probably start with a couple more seeds, 7 or 8. A couple won't germinate, and then discard down to the six best phenotypes.
Make sure to always stay within your state's legal limit of growing plants.
How do I buy strain-specific cannabis seeds?
Strains like Blue Dream, Gelato, and Original Glue have gained in popularity in recent years.
Cannabis seed buying FAQ
What is the difference between male and female marijuana seeds?
Gender in a cannabis plant can't be determined from looking at the seed; the seed has to sprout and mature in order to determine the sex of a plant. Only females produce buds, whereas male plants produce pollen.
Why do you have to germinate seeds first?
Germination is the first essential phase of a cannabis plant's life, when it first sprouts and grows leaves. Growers looking to bypass seeds and germination can start from a cannabis clone.
What's the best way to store cannabis seeds?
Store seeds in a dry, airtight container, so moisture can't get in. If storing for a long time, keep them in a fridge or freezer.
Will customs confiscate my cannabis seeds?
Despite the DEA's letter from April 2022, cannabis seeds are technically still illegal and will be confiscated if found on a person or in the mail.
Pat Goggins contributed to this article.