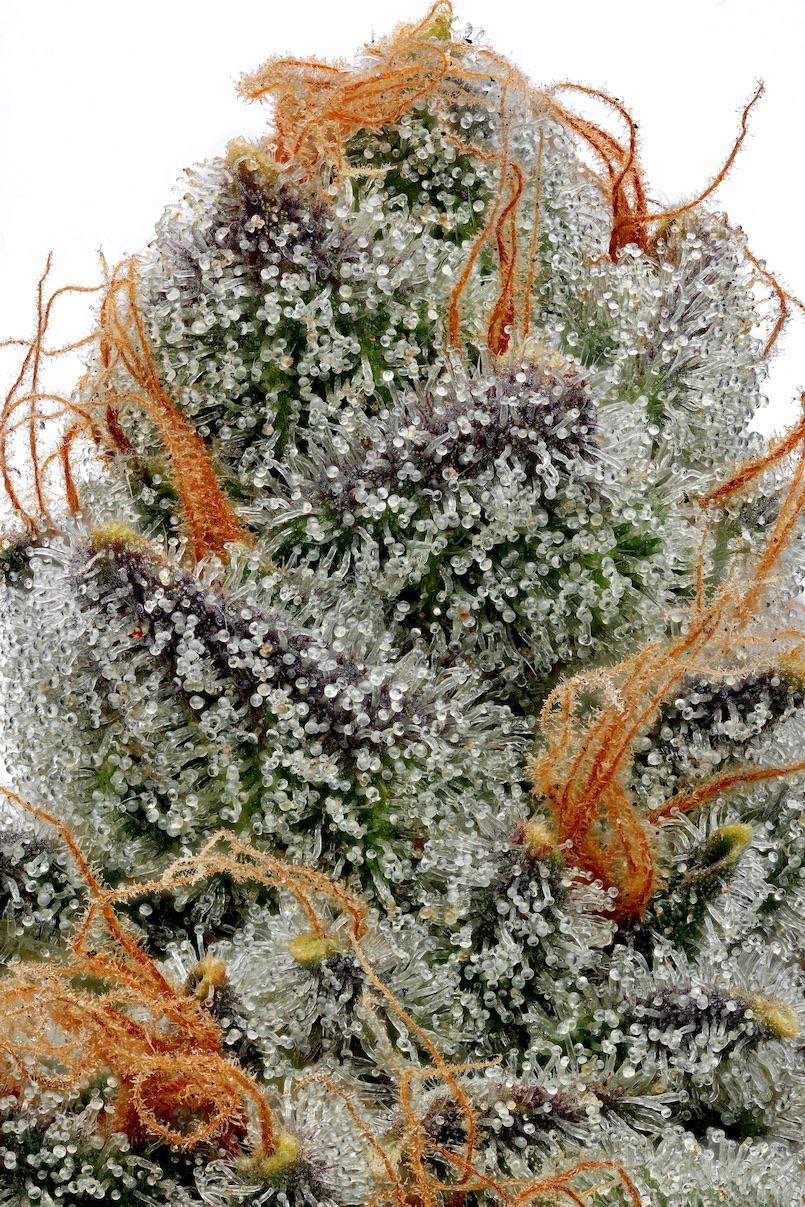 Terpenoid Unicorn Genetics Marijuana Seeds
Take a look at the resin gland riot going on in the photo above. This sparkling bud is Pineapple Upside Down Cake, a premium cannabis strain made by Northern California's Humboldt Seed Company.
The strain name is accurate—the buds really do taste and smell like cake. The high is luscious too. Out of the many marijuana strains you could buy seeds for, fewer than one percent are as innovative, potent and pleasing as Pineapple Upside Down Cake.
In decades of professional cannabis cultivation, Growing Marijuana Perfectly team members have collectively tested thousands of seeds and hundreds of marijuana strains. Season after season we've grown Blue Dream, Jack Herer, Durban, Girl Scout Cookies, Diesel, Bubba Kush, Gorilla Glue, Bruce Banner, Silver Haze, and other generically popular strains, hungrily searching for extraordinarily different, revolutionary new strains for our grow ops.
Three years ago, we struck gold in our quest for exciting new cannabis varietals when we discovered Humboldt Seed Company (HSC) has gourmet strains nobody else has.
We've carefully test-grown several of their strains for at least one full season, and interviewed professional growers who grow HSC strains we haven't gotten to yet. There's unanimous agreement that you can't find even one dud in the Humboldt Seed Company catalogue—every strain is dynamite!
You owe it to yourself to take a deep dive into the company's impressive new strains and see why savvy growers love them…
Cannabis Genetics Candy Shop
Humboldt Seed Company founder Nat Pennington develops cannabis seed strains in Northern California's Emerald Triangle, a fabled region that has been home for thousands of clandestine cannabis growers for at least 50 years.
Pennington and his cannabis "phenotype hunters" travel this rugged wilderness from one isolated township and valley to the next, discovering obscure, incredible cannabis strains.
He also hosts host massive "phenotype hunt" events where cannabis experts, professional growers, and plant scientists examine thousands of cannabis plants and dozens of gardens, looking for and rating "unicorn" phenotypes.
With so many plants to work with, Pennington comes away with incredible phenotypes that stand above the rest, but it takes years of hard work and cannabis alchemy to select and lock in the most favorable traits to create superlative strains.
Pennington uses expensive, meticulous plant tissue sampling, lab analysis, gas chromatography, and other intense scrutiny of cannabinoid and terpenoid profiles as he crafts his one-of-a-kind strains.
After all that work to create a unique strain, Pennington uses science and strict quality control  to ensure his seeds grow out exactly as he describes the strain, with no genetic defects, hidden viruses or other problems.
What's more, Pennington's team constantly monitor their strains and seeds to ensure plants grow out exceptionally vigorous and resilient, leading to faster growth rates, resistance to diseases and pests, earlier flowering, heavier harvests, and unprecedentedly high levels of THC, CBD, rare cannabinoids like CBD-v and THC-V, and rare terpenoids.
Strain consistency is further assured by Pennington's rigorous program of back-crossing to create "inbred lines," and feminized F-1 seeds.
Pennington describes his F-1s as "clone seeds," and guarantees his F-1 seed strains to be as reliable and consistent as clones. Plant twenty Humboldt Seed Company F-1 seeds from the same strain, and get the same crop uniformity as if you'd rooted twenty clones.
The certified reliability you get from HSC seeds is unparalleled in the cannabis seeds industry.