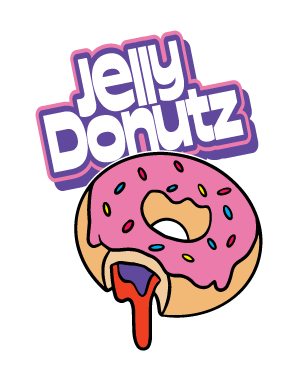 JELLY DONUTZ CANNABIS SEEDS
 ORIGINAL STRAIN
HYBRID (40% INDICA 60% SATIVA) | AVG. THC 30-35% | Bx2 | STRAWBERRY MALTED MILKSHAKE | ENERGIZING UPBEAT HIGH
PINK COTTON CANDY | CARAMEL | FUEL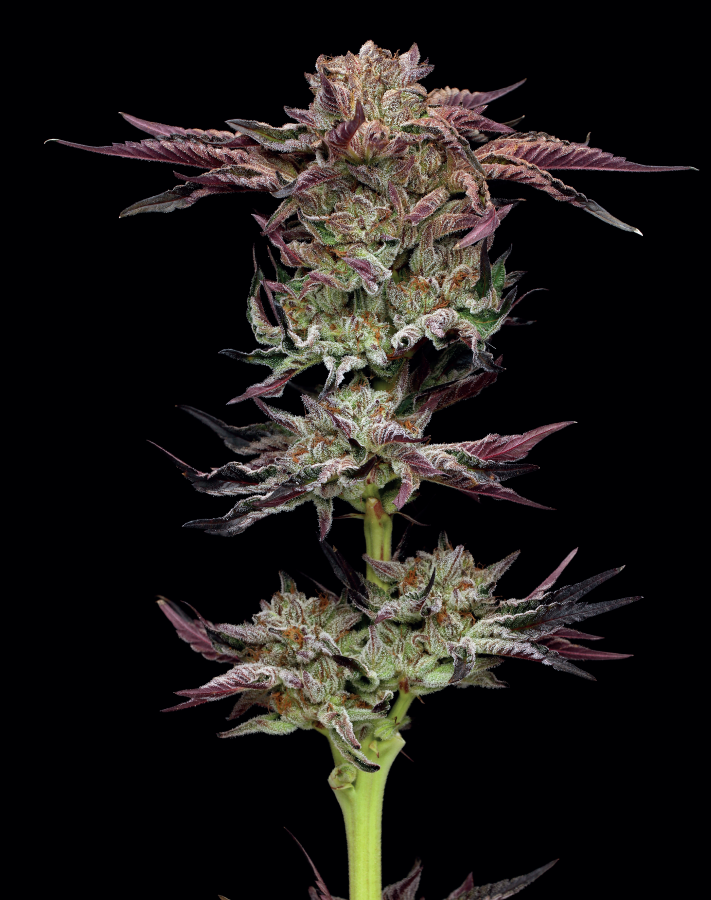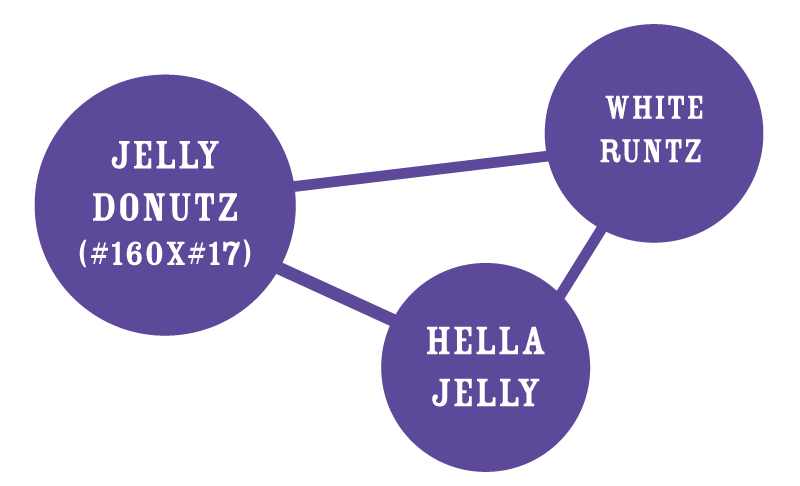 Welcome to the world of dessert strains and delicious flavors. Jelly Donutz is a tasty little morsel with high potency that is sure to delight the palate of smokers of all consumption habits. It will also satisfy growers looking for a fast-flowering plant that provides a huge yield.
Here is what you should know about Jelly Donutz, how it grows, as well as how it smells, tastes, and feels.
What is the Jelly Donutz cannabis strain?
Bred by Humboldt Seed Company (HSC), Jelly Donutz is a sativa-dominant hybrid (40% indica, 60% sativa) that was born from crossing Jelly Donutz (#160x#17), Hella Jelly, and White Runtz. Just in reading that, you can probably smell and taste the thought of Jelly Donutz. That's because its genetics scream fruit, dessert, and Gelato descendance.
Hella Jelly (formerly called Jelly Rancher) is a sativa-dominant hybrid cannabis strain with an average THC content between 26% and 30%. It was created by crossing Hella Jelly BX3, Notorious T.H.C., and Very Cherry. 
White Runtz is a phenotype of Runtz, which comes from crossing Gelato with Zkittlez. It has a fruity flavor profile, thanks to its Gelato and Zkittlez lineage, but also comes through with floral, creamy, and diesel notes on the exhale. 
Runtz and White Runtz are both strains that have been faked, forged, and scammed thousands of times, due to their popularity. Companies know how in-demand the strains are so they will take a plant that is NOT Runtz, and still package and market that strain as such. Fortunately, with HSC, you'll never have to worry about that. If they say a strain is Runtz, or is crossed with Runtz, you can bet your bottom dollar that it's the truth. Made from a cut of Runtz that Humboldt Seed Company obtained at the famous Emerald Cup, Jelly Donutz is a perfect example of that.
Jelly Donutz' purple and green flowers are absolutely coated in trichomes, which makes it a great strain to wash for concentrates. Its THC content has tested as high as 35%. Tetrahydrocannabinol (THC) is the active compound in cannabis that turns you from sober to "high."
What is the history of Jelly Donutz?
HSC's Jelly Donutz is the result of three years of pheno-hunting that started back in Fall 2020. The initial pheno-hunting began in Fall 2020, followed by a backcross of the strain in Winter 2020. After that, two large scale pheno-hunts took place at Casa Flor and HSC in 2021, followed by stabilization and production. The result is the perfected version of Jelly Donutz that now exists today. 
A piece about this strain from Growing Marijuana Perfectly detailing Jelly Donutz' origin story states "Massive pheno hunt efforts were put into the selection of Jelly Donutz. Hunting of the S1's and #2 and #13 sibling crosses took place at four Emerald Triangle farms: Casa Flor, THC of Humboldt, Fire Mountain, Humboldt Seed Co., and The Bud Farm in Nevada County. Alex of Casa Flor suggested the name Jelly Donutz and we loved it! Only 2 individual cultivars were selected from a population of 840, both tested high in terpenes and over 34% THC at SC Labs."
How does Jelly Donutz grow?
You can purchase and grow Jelly Donutz from feminized seeds. Feminized seeds virtually guarantee your garden only produces flowering plants. Only female cannabis plants produce consumable cannabis flowers, whilst male plants produce pollen sacs that can be used in breeding projects to make new, undiscovered cannabis strains. That process is usually reserved for veteran growers. Feminized seeds are excellent for growers of all experience levels, especially beginners.
Jelly Donutz has a flowering time of 55 days when grown indoors, and a harvest date around the end of September/early October when grown outdoors.
Growing Marijuana Perfectly (GMP) provides a detailed account of growing Jelly Donutz here. Cultivators over there say the strain performed admirably, growing to a finished plant height of 4-5 feet, and producing an average yield of 3.1 ounces dry weight per plant. 
About its ease of growing, GMP says "Jelly Donutz is very easy to grow, similar to its parent Hella Jelly. It shows plenty of resilience and vigor, and appears to be resistant to gray mold and powdery mildew."
On how Jelly Donutz grows, GMP says "Growth rate was slow during grow phase. Bloom phase stretch was less than average. The plants build themselves as tall and vertical rather than short and stocky. We were worried that the verticality would make for weak stems and stalks that required plant support, but branches were all surprisingly strong and stable. Bud development seemed slow and unremarkable until day 30 of bloom phase, when they suddenly bulked up, filled in, and developed dense resin glands."
How does Jelly Donutz smell and taste?
Jelly Donutz is the perfect mix of sweet candy and fuel terpenes. HSC describes its smell profile as pink cotton candy, caramel, and fuel. As far as flavor goes, smoking Jelly Donutz tastes like drinking a strawberry malted milkshake.
What are Jelly Donutz effects?
Consumers can typically expect an energizing and upbeat type of high from Jelly Donutz. That's why it's such a great strain for anytime consumption. Whether you wake-and-bake with it, smoke it during an afternoon break, or reserve it for an evening chill-out, you'll still sure to enjoy the experience that follows.
For people looking for something to smoke and enjoy active hobbies, say hello to Jelly Donutz. "The high from buds harvested at day 56 lived up to HSC's promise of 30-35% THC. The onset of the high was heart-racing, mostly Sativa, but not annoyingly paranoid or anxious, and the high lasted hours without burnout," says Growing Marijuana Perfectly. "This high is great for dancing, athletics, parties…but novice users should inhale with caution. Even those of us who wake and bake and keep baking all day long notice that this strain takes you right through the ceiling, no matter how high you were before," they continue.
Is Jelly Donutz a head high or body high?
With all cannabis strains, it's important to know that we all feel different degrees of highs after smoking the same strain. That's because each human has their own endocannabinoid system that processes cannabis compounds. Those systems are based on our physical composition, and considering each human is built differently, it's easy for you to see why the answer to "Head high or body high?" is extremely subjective.
That said, Jelly Donutz tends to be more of a head high than body high for consumers. It hits your brain with an energy rush that then spreads the same energy throughout your body; but that initial cerebral onset is undeniable.
Still, even with this knowledge of average user experience, the best way to know how Jelly Donutz will affect you is to consume the strain in various doses and settings then monitor the experience over a period of 2-5 hours. So get up, find this delicious cannabis strain, and see if it's your next favorite smoke. We have a feeling you'll absolutely love it.