12 best cannabis strains of harvest 2022
David Downs Published on October 27, 2022 • Last updated October 31, 2022
Fields of gold: Harvest time at Honeydew Farms in Humboldt County. (Photo by Miranda Moore, Courtesy of Honeydew Farms)
America's tens of millions of monthly weed smokers, prepare yourselves for transcendence.
Fresh, new cannabis flavors and effects hit store shelves over the coming weeks and months. We're talking thousands of metric tons of jelly donuts, tropical candy fuel, rich dessert, icy mint, stanky gas or garlic, tangy tangerine, and more.
At this very moment through winter, America's outdoor weed harvest finishes flowering, drying, curing, and moving out to dispensaries in 15 states. Fresh and classic varietals stand ready to power your afternoon chillax or a neon daydream. Roll up and bust open those doors of perception. Create. Make out. You name it—weed assists.
Leafly's 12 strains of harvest embody everything trending and best-selling in the $60 billion weed industry in 2022. Tens of thousands of cannabis farmers plant the fast-growing annual in the spring and harvest its potent flowers each fall. Global cannabis culture rides waves of innovation emitted from the western US.
We polled dozens of growers, walked the fields, crawled the Hall of Flowers, and got our hands sticky during trimming.
Inside America's ganja heartland—the Emerald Triangle of Humboldt, Trinity, and Mendocino Counties—the annual outdoor weed harvest is pungent, plentiful, and cheap, experts report.
"Herb out of Humboldt County is undervalued, and it's a very good buy," said Sunshine Cereceda, founder of Sunboldt Grown in Humboldt County.
Let's dive in.
Jump to a '22 harvest strain
Zawtz
Garapples
Banana Cake
Mango Mintality
Cali Gas
Pink Boost Goddess
Forbidden Muffin
Blue Tint
Sapphire Tsu
Gravity Apple
Jelly Donutz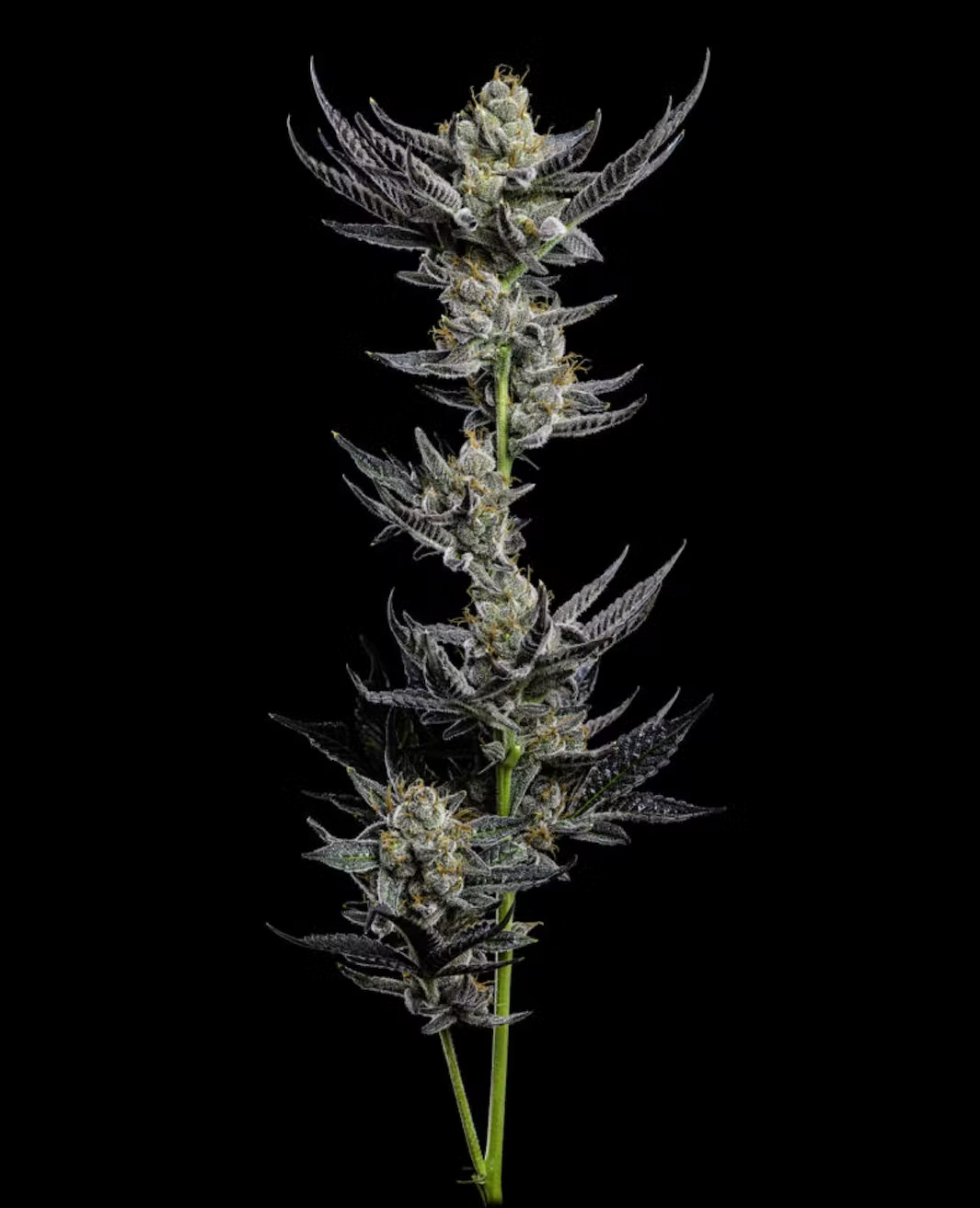 The Bud Farm and Casa Flor grew Jelly Donutz in 2022. (Photo by Kandid Kush, courtesy Humboldt Seed Co)
Our 2022 harvest list begins in the dispensary-ruling Runtz family, celebrating the fresh hybrid Jelly Donutz from leading breeder Humboldt Seed Company. It's a bigger, blingier, more exotic version of our 2020 Leafly Strain of the Year.
"It's going to be fire," said Nathanial Pennington, CEO of Humboldt Seed Co. "I've been working on it for a really long time."
Nat's team mixed the modern sativa hybrid Hella Jelly into the 2019 Emerald Cup-winning Runtz grown by Ridgeline Farms. The result smashes Runtz' tropical gelato cream to Hella Jelly's cherry, blue cotton candy. It tests at a cracking 34% THC, plus it dumps hash at up to 6% yield. New varieties have to hash well or they'll never make it to the top.
"Solventless is huge right now," said Nat.
There's way more to the Runtz wave in 2022. Just steer clear of the counterfeits and the boof.
Garlic Budder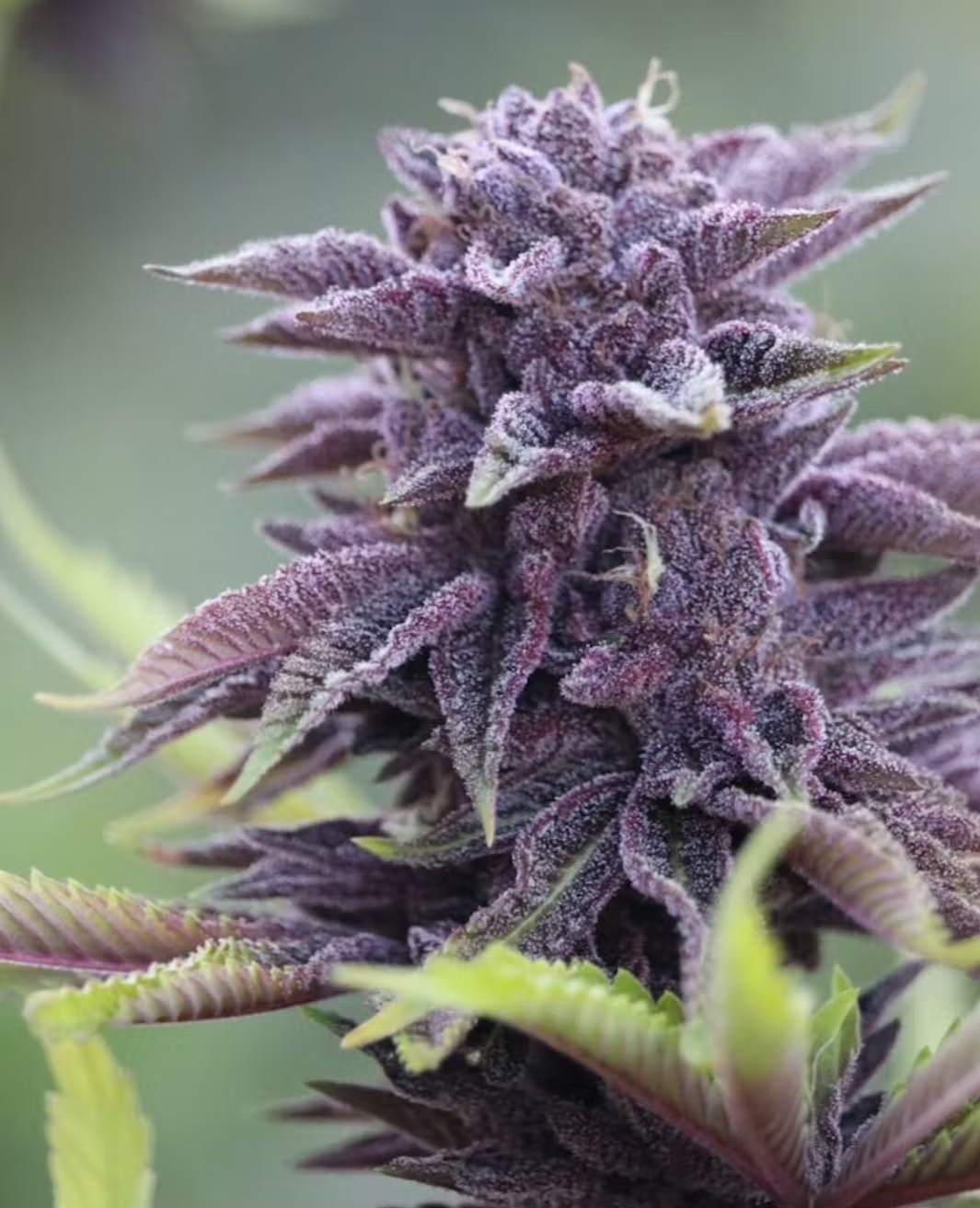 Stop the world and melt: Sungrown Garlic Budder turns purple at Lost Paradise Organics, Mendocino County, CA. (Courtesy Lost Paradise Organics)
Let's get weird for a minute. GMO Cookies has spawned entire lines of acrid, biting, savory, garlicky, nutty, skunky weed that clap back at the sweet strain craze. Look at Skunk House Genetics' 'Burger' line or Compound Genetics' First Class Funk.
Humboldt Seed Co's GMO project Garlic Budder had a banner season for flower and extract. It's creamy, buttery, pungent, and nutty. Outdoor farmers will tell you: it's a big, stanky, dumper—meaning the yields are as massive as the aroma and hash yield. Those factors have become table stakes in modern pot.
Why would anyone want weed that's so rowdy? In a word—boredom. Like a blue cheese bacon cheeseburger, or tequila body shots, intense experiences punch through your modern malaise. You can't doomscroll if you're too high to find your phone.