Emerald Cup Harvest Ball 2021 Musical Acts Lineup Announced
A full-spectrum blend of both nostalgia and discovery awaits at Harvest Ball 2021, a 2-day celebration of the fall cannabis harvest and the farmers and craftspeople who bring it to market. The Emerald Cup Harvest Ball also marks the debut of the start of the journey to the 18th Annual Emerald Cup Awards. The event's diverse soundtrack will feature headliners BIG WILD and Trevor Hall along with Mr. Carmack, HIRIE, Sudan Archives, Dirtwire, and Dumpstaphunk on Saturday December 11 and Sunday, December 12, 2021 at the Sonoma County Fairground in Santa Rosa, California. The explosive roster will also feature local and international talent from chart-topping and emerging musical performers, to sharp-witted comedians; entertainment that is punctuated by culture-driving conversations with visionaries from the cannabis and psychedelics industries. Official sponsors of the event — Cookies, Puffco, Humboldt Seed Company, and Compound Genetics — are excited to partner with The Emerald Cup to bring these top talents to the first annual Harvest Ball's main stage. These acts join a long list of past Emerald Cup Awards performances including SantiGold, Rebelution, The Roots, Damian Marley, Michael Franti and Cut Chemist.
"After two years away from the majority of our community I'm thrilled at the thought of the Harvest Ball event and gathering of the tribe in December," says founder Tim Blake. "We're helping small farmers by donating free booths. The musical lineup is our best ever, we're setting things up to party hard. We've tightened the footprint so even if it rains we'll be good to go. Come join us to celebrate in Santa Rosa at the Harvest Ball!."
WE ARE EXCITED TO ANNOUNCE SPECIAL PERFORMANCES BY: 
BIG WILD, Trevor Hall, Mr. Carmack, HIRIE, Sudan Archives, Dirtwire, Dumpstaphunk, Bumpin Uglies, Monophonics, Shook Twins, A Hundred Drums, Sidecar Tommy, SOOHAN, SOL Development, Object Heavy, Free Creatures, DJ Guidance, DJ Rundat and more to be announced.
EMERALD CUP SESSIONS TOPICS:
"The Hottest Topics in Genetics"; "Sexual Healing: Cannabis Under the Covers"; "The New Wave Of Psychedelics Is Here"; "Eat, Drink And Be Merry. Food, Beverages & Cannabis Hospitality"; "Creating Real Impact: Empowering Social Equity Operators in the Cannabis
Industry"; "Hip Hop & the War on Drugs"; "Changing Landscape: Securing the Future of Small Farms"; "ECHB Joint Rolling Contest"; Behind the Scenes: The Emerald Cup Judging Experience"; "The Mushroom Movement: Adaptogenic Mushrooms and Craft Products"; "What's Next for Cannabis Taxes?"; "Rehabilitating Our Ecosystem: Regenerative Agriculture Principles and Practices" and much more.
More exciting performers and industry visionaries to be announced soon.
Emerald Cup Harvest Ball 
Sonoma County Fairground, Santa Rosa, California
Saturday December 11, 2021 & Sunday December 12, 2021
Noon – 8pm PDT (11am early entry for VIP only. GA entry at 12 noon)
The Emerald Cup Harvest Ball will have the same welcoming, grassroots vibe from past Emerald Cup Awards events including:
● Two stages of chart-topping musical acts
● In-depth 'Emerald Sessions' expert panel discussions with cultural thought leaders (to be announced soon)
● Delicious health-conscious food and beverage vendors, indoor and outdoor consumption lounges
● VIP experiences at the Flamingo Resort, Santa Rosa
● Our full spectrum marketplace provides full access to the Fall's fresh cannabis harvest, a wide array of top-shelf genetics, an unrivaled collection of heritage and new-gen products, and face-to-face interaction with the folks behind the most highly sought-after cannabis brands in California.
TIER 1 "EARLY BIRD" PRICES: 
$110 General Admission
$549 Emerald VIP
$699 Super Emerald VIP
*All 2-Day Passes
$1.00 of every ticket sold will go to Sweetleaf Collective for Compassionate Care Visit: www.theemeraldcup.com for more information and to purchase tickets. WELCOMING SPONSORS: 
Cookies – Emerald Level Sponsor of the Emerald Stage
PUFFCO – Diamond Level Sponsor for the Grace Pavilion
Humboldt Seed Company – Platinum Level Sponsor for Redwood Stage
Compound Genetics – Platinum Level Sponsor for the VIP Tent
The event is open to anyone 18 years or older with a valid photo ID. Licensed Cannabis Consumption areas are 21+, (or) 18+ with a Medical Marijuana Identification Card and valid photo ID.
Our information is updated regularly in accordance with local and state guidelines.
We are pleased to offer media interview access to our performers for select media opportunities. For access to The Emerald Cup, The Emerald Cup 2021 Award Show, The Emerald Cup Channel on Social Club TV, or to speak with founder Tim Blake, please contact:
Kenneth Loo, Chapter 2 at ken@chapter2agency.com
Follow the fun on social media at @theemeraldcup and visit www.theemeraldcup.com for programming information.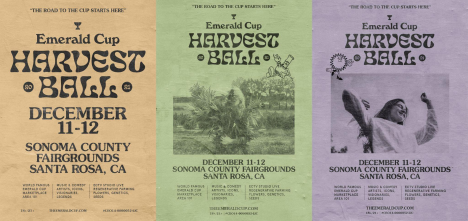 ABOUT THE EMERALD CUP: 
The Emerald Cup is now the world's premier virtual cannabis destination and iconic live event. While advancing the concept of sustainable, sun-grown farming, the 17-year old organization's reputation is firmly solidified as the largest, most-respected cannabis competition in the world. As a group, The Emerald Cup prides itself in bringing together leading experts in the cannabis industry to educate and inspire our fellow farmers, patients, and patrons each year. The community celebration has grown to become a global movement honoring the year's finest organic and sun-grown, cannabis harvest as well as the finest cannabis products available. The Cup has stood as a celebration of excellence and over the years, has seen founder Tim Blake recognized as a guardian of the ever changing cannabis industry.