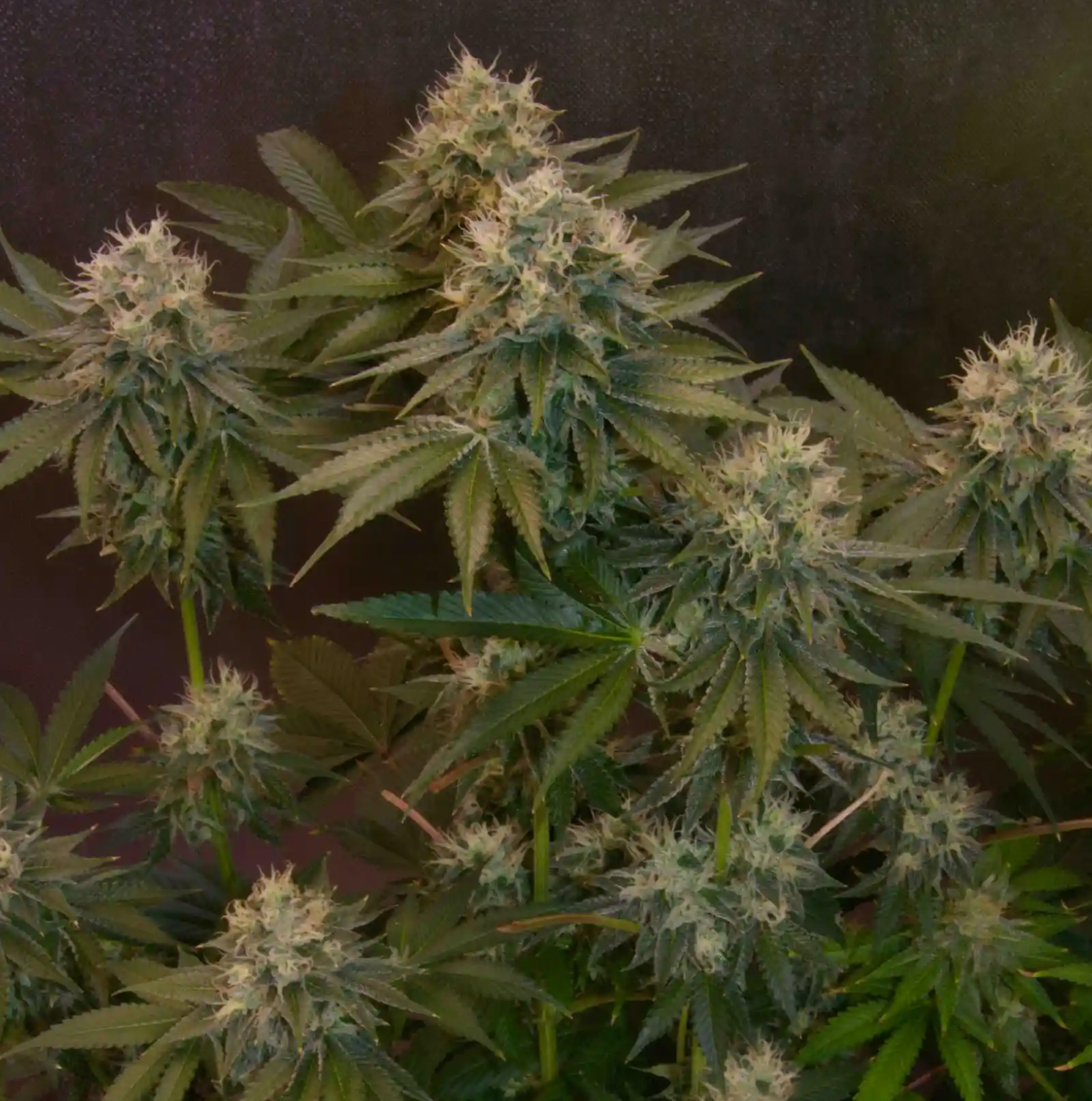 Humboldt Seed Company Jelly Donutz
Date: February 6, 2023 Author: Marijuana Growing Educators
We wrote about the fire new strain, Jelly Donutz from Humboldt Seed Company, as soon as it was released last year and have just completed our first test season. It performed admirably. Here are the details:
Five Jelly Donutz feminized photoperiod seeds were placed in germination mode. All germinated within three days. Plants grown in Grodan rockwool.
Nutrients used were TPS One, TPS One Bloom Ultra, TPS Signal, Cal-Mag, Billions, Silica Gold, N-Primer in reverse osmosis water with pH @ 5.7.
High-intensity LED protocol, using SANlight LED grow lights.
Grow phase plants received 28 days of 18/6 light. Bloom phase was 56 days long.
Plants were topped once, at 22 days into grow phase.
Finished plant height was 4-5 feet, except for one runt that was 3.5 feet.
Average yield per plant: 3.1 ounces dry weight.
Genetics: White Runtz x Hella Jelly (formerly known as Jelly Rancher).
Cultivation Notes
Jelly Donutz is very easy to grow, similar to its parent Hella Jelly. It shows plenty of resilience and vigor, and appears to be resistant to gray mold and powdery mildew.
Growth rate was slow during grow phase. Four plants showed identical phenotype consistency; one was a runt orphan similar to the strain's Runtz parent.
Bloom phase stretch was less than average. The plants build themselves as tall and vertical rather than short and stocky. We were worried that the verticality would make for weak stems and stalks that required plant support, but branches were all surprisingly strong and stable.
Bud development seemed slow and unremarkable until day 30 of bloom phase, when they suddenly bulked up, filled in, and developed dense resin glands.
One of the most important things to know about this strain, at least from what we experienced during this first test season, is that resin glands go completely cloudy early.
Usually, marijuana resin glands stay clear until the last third of bloom phase. That's why resin gland clarity, size, and stability is usually a reliable harvest timing tool. For most strains, when more than a few resin glands turn cloudy or amber, it's harvest time.
With Jelly Donutz, it may not be.
Knowing that Humboldt Seed Company's (HSC) bloom phase duration estimates are usually very accurate, we didn't start harvesting when buds looked like end-of-bloom White Widow, with a solid coating of ghost-white resin glands starting around day 37.
Instead, we waited to harvest until resin glands were deteriorating slightly at 56 days, which is one day longer than HSC-recommended bloom duration.
The runt Jelly Donutz plant had the cloudiest resin glands earliest. We took it down 44 days into bloom phase and were surprised the high was so strong, energetic, long-lasting.
The high from buds harvested at day 56 lived up to HSC's promise of 30-35% THC. The onset of the high was heart-racing, mostly Sativa, but not annoyingly paranoid or anxious, and the high lasted hours without burnout.
This high is great for dancing, athletics, parties…but novice users should inhale with caution. Even those of us who wake and bake and keep baking all day long notice that this strain takes you right through the ceiling, no matter how high you were before.
Terp scents during bloom phase include diesel, vanilla, pepper, sugar candy, and caramel.
The strain doesn't produce massive terp scent at the level of Hella Jelly or Raspberry Parfait (two other amazing HSC stains), but there's enough scent to please the nose and palette.
The buds have a favorable calyx-to-leaf ratio so they're easy to trim, with little leaf waste.
Resin gland density is high; dry sift, bubblehash, and other extracts are an ideal end product for this strain.
We saw zero signs of hermie clusters or any other genetic defect in this strain.
The strain handled high-PPFD and a high-ppm feed program very well, and appears to be a heavy feeder.
As the photo accompanying this article proves, these are gorgeous plants with sturdy structure.
The bottom line is Jelly Donutz is yet another incredible dessert strain from Humboldt Seed Company.
Not only is HSC one of few honest, ethical marijuana seeds companies, their focus on potency and terpenoids has created the most luscious strains commercially available in the past ten years.
They're in a class by themselves when it comes to terpenoids, rare genetics, and true-growing seeds.
Note: There's a scam cannabis seeds company that calls itself Humboldt Seed Organization. Do NOT confuse them with Humboldt Seed Company.