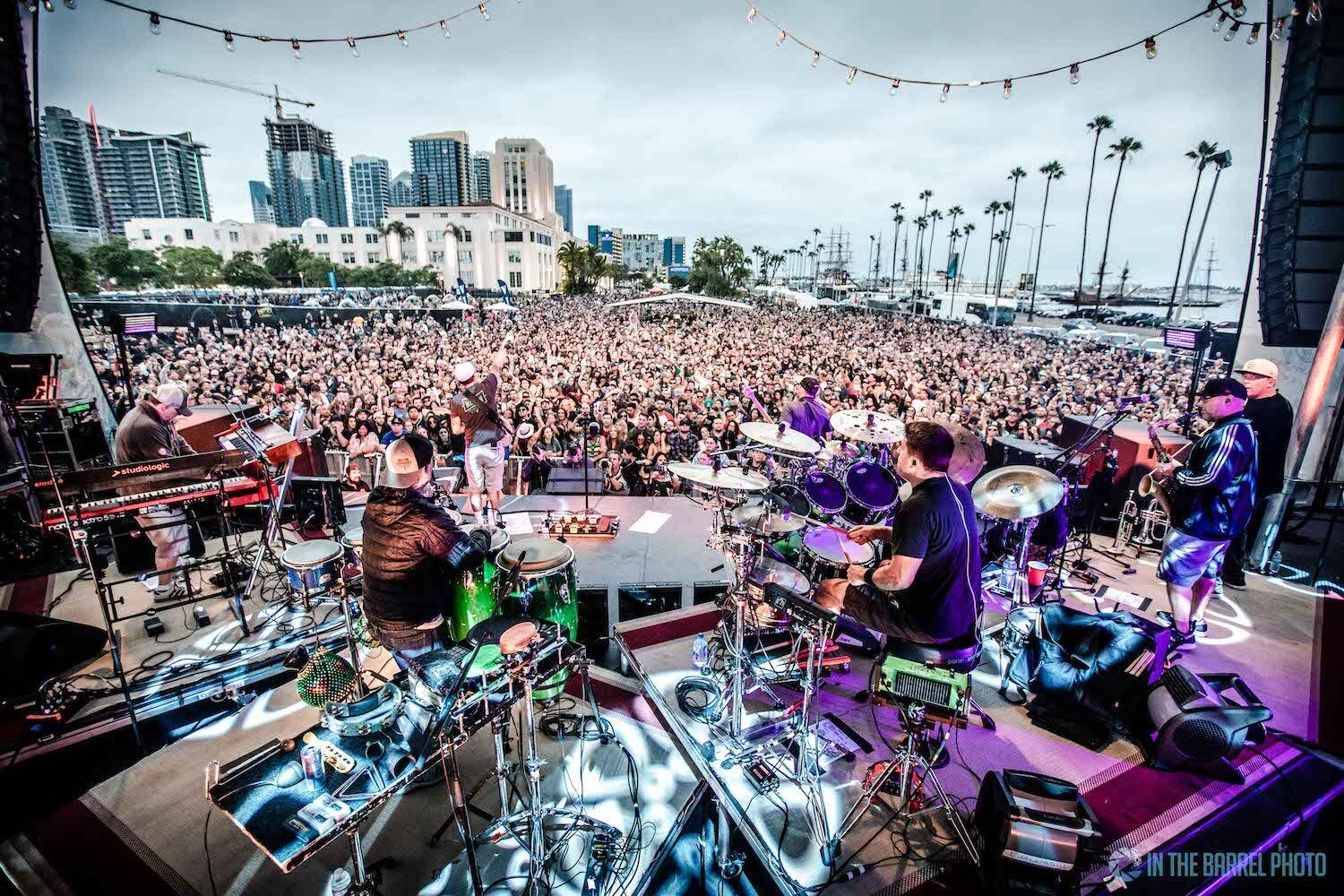 Slightly Stoopid on Blazing a Trail in San Diego's Counterculture
With the creation of their own cannabis brand, the OB-founded band is becoming more than just musical innovators
Allie Adams Sep 2, 2022
This Saturday at Petco Park, California music pioneers, Slightly Stoopid, conclude their headlining nationwide Summer Traditions Tour at their hometown amphitheater. This comes on the heels of multiple co-branded summer product launches from their self-owned and run cannabis brand, Stoopid Strains.
With direct support from fellow reggae outfits Pepper, Common Kings, and Fortunate Youth, Slightly Stoopid and Stoopid Strains co-founder Miles Doughty gushes, "this tour was honestly one of the best tours we've been on in our career… We've been home for so long [due to COVID], this tour was meant to 'throw the whole kitchen sink at 'em,'" he explains of the simultaneous product launches and respective tour dates.
Step foot anywhere in San Diego and so much as whisper 'reggae' and 'weed' in the same sentence, and someone within earshot will undoubtedly and eagerly name drop the Ocean Beach-bred, Sublime-mentored supergroup. And the eavesdropper almost always "knows someone who knows someone in the band."
This type of viral, grassroots, pre-social media influence is something that according to Doughy, "was a slow snowball effect" that blossomed over the past 25 years. From the humble backyard parties of their teenage years to playing their first real venue at the all-ages rock incubator SOMA, and sold out shows around the world, the band has cultivated a devoted fanbase. The "family" as Doughty affectionately calls them, has become a cornerstone of San Diego's millennial counterculture movement.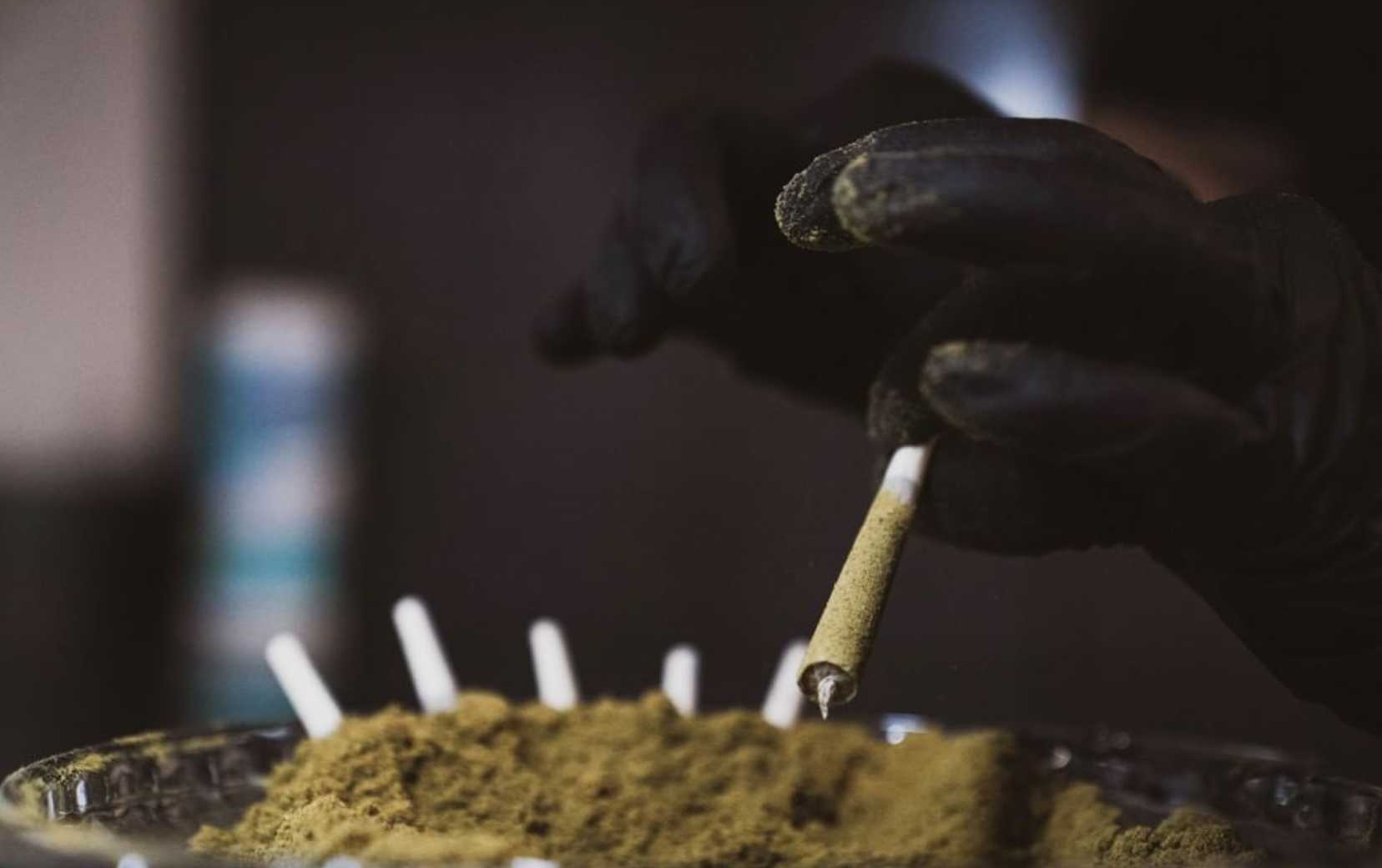 Something to Believe in
Last year's debut of Stoopid Organics, which was quickly rebranded as Stoopid Strains, was the brainchild of founding band members and lifelong friends Doughty and Kyle MacDonald, and their management at Silverback Music. Born from a desire to partner with other cannabis brands they trust and support causes they believe in, the BFF's goal is to produce products that they actually use.
"The kind of weed that we like is something that everybody should enjoy," Doughty proclaims. Plus, a portion of sales is donated to the Last Prisoner Project, a nonprofit which works to free the tens of thousands of individuals still incarcerated for cannabis-related offenses.
Whether it's their partnership with Seabright Distribution to produce a high-potency pre-roll, aptly named The Stoopidhead Hammerhead; tins of hash-infused pre-rolls with the famed Space Coyote cannabis brand; or their oral CBD spray collaboration with longtime audio engineer and friend, JWiz, the duo seeks authenticity and quality above all when choosing what to co-brand, and with whom.
"We're a band that will never put our name on something that we wouldn't use ourselves", Doughty says. The remaining summer product drops include a still-unreleased infused THC/CBD honey from Cannabella Kitchen called "Sweet Honey"—the namesake of their hit single off 2003's Everything You Need—as well a co-branded dried flower collaboration with boutique cannabis farm, Playa Grande in Spokane, WA.
In addition to these new menu items, Stoopid Strains also offer their hand-selected cannabis genetics via an alliance with Humboldt Seed Company, which boasts two different cultivars: an indica, Collie Man Kush; and a sativa, Stoopid Fruits. Yet again, a nod to their historic song titles, as well as co-founders Doughty and McDonald's complementary dynamic, both on- and off-stage.
"Me and Kyle have been friends since diapers, so we're as close of friends as you could ever be. What's cool about us is we're the yin and the yang–we're the same, but opposites and a lot of our music is too. I'm more of an OG/Kush kind of person and he's more of a sativa enjoyer. If you listen to our music … we sing together and it's seamless, but if you listen to our styles they're totally different."
The band has dabbled in the beer and spirit world as well. A partnership with Uncle Ed's Damn Good Vodka provided a vodka bar for VIP ticket holders on the Summer Traditions tour, and their Summer Tangie Haze just released Buzzrock Brewing is available for purchase online and at Brews Hall locations in Southern California.
Becoming San Diego Royalty
Mentored by the late, great Bradley Nowell of Sublime, Doughty and McDonald carved out a niche for themselves, and eventually a devout following, by playing the revolutionary surf rock/reggae/punk/ska sound mashup in the San Diego scene that only Sublime was known for in the late nineties. Though they were surrounded by the likes of iconic local reggae groups The Trevor James Band, Roughneck Posse, and Wise Monkey Orchestra, Slightly Stoopid followed the advice and style of Nowell and Sublime to great success and even greater fan admiration.
When asked about their secrets to becoming one of the most recognizable and influential bands out of San Diego, Doughty elaborates, "Just like grunge changed hair metal, Sublime changed grunge to this whole new era of music and back then, we were the only baby band playing that style."
"We kinda carry a thought process that Brad and Miguel told us back in the day: 'you wanna be on the road and earn the respect of your fanbase and build it grassroots style.'"
"I think that because Slightly Stoopid was really the only direct lineage to Sublime, because Brad died when I was 18, having all those things intertwined together… we slowly built that culture that they opened up the door to."
Ever the feel-good experience at their live shows, bringing fans back time and time again, Slightly Stoopid has cultivated a generational following after touring nearly every city in America for the last 25 years. "There's people that have been going to our shows for twenty years, and they bring their kids now," Doughty elaborates. A testament to not only their unique sound, but the love and community they impart to their tight-knit fanbase.
Sold-out shows worldwide, a quiver of best-selling weed-tinged albums, a mentorship by the one of the greatest reggae musicians of all time, and the creation of their own cannabis brand has cemented Slightly Stoopid as not just San Diego royalty, but musical innovators and figureheads of the American music scene.