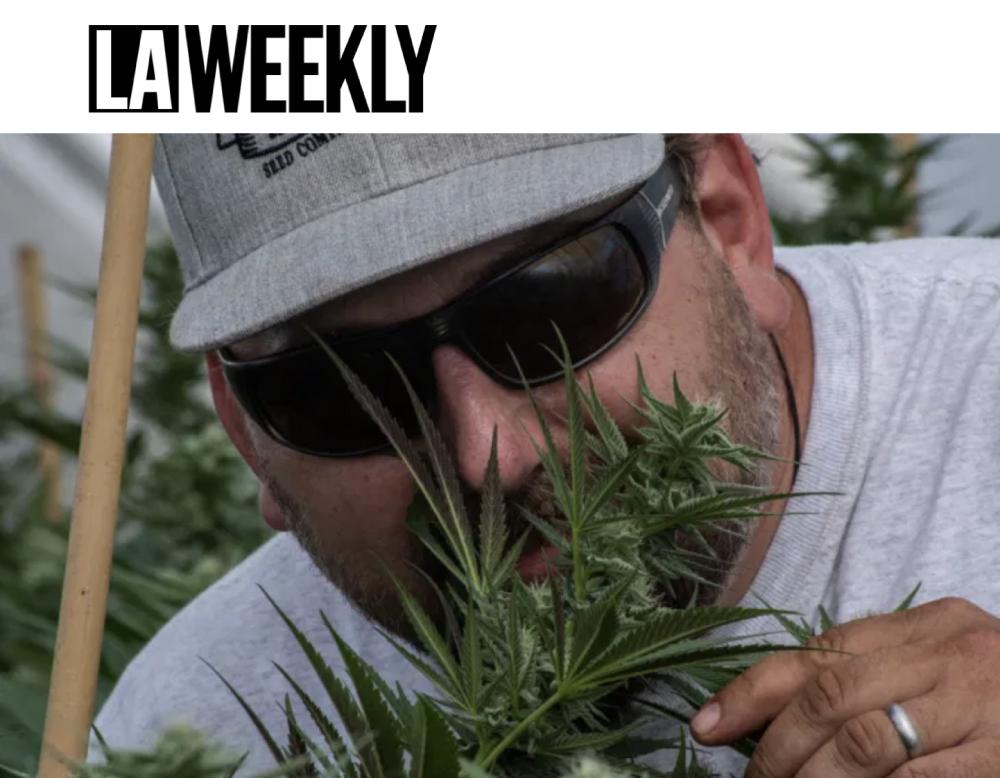 HUMBOLDT SEED COMPANY GOES TO CANADA
In the midst of a flurry of cannabis news around the holiday last week, one thing that flew under the radar was the Humboldt Seed Company announcing they'd just produced the world's first batch of feminized organically certified seeds, in Canada.The seeds are being grown by Canadian company Nymera on its 86 acres of organic farmland in Westwold, British Columbia. Nymera focuses on growing for terpenes to produce high-quality fresh frozen materials that can then be turned into extracts.
Nymera's Greenhouse. [Photo: Betsy Samuelson]
Nymera co-founder and CEO Rick Gill was excited to announce the new line.
"We are enormously proud to have partnered with Humboldt Seed Company to help bring their amazing genetics to Canadian and international cannabis cultivators," Gill said. "We recognize and appreciate the high level of care and professionalism that Humboldt Seed Company brings to the production of seeds. Their unique talents, which make the brand so phenomenal in the first place, are ones we are determined to emulate."
We talked with HSC founder Nathaniel Pennington about taking the company's 20-year history abroad, and the ability to execute something that's simply not currently possible domestically given the current federal status of cannabis.
"I'm not afraid of just saying the organic truth of it, which is basically, we had these incredible interns," Pennington told L.A. Weekly. But these weren't "finding themselves before senior year" type interns. Husband and wife pair Ben and Betsy Samuelson had a lot of cannabis-relevant degrees when they arrived at HSC ready to get their feet wet in the industry. "They were just incredible resources for us, and vice versa. It was sort of serendipitous."
After taking part extensively in the work HSC did during the 2019 season, the pair headed north to Canada. Like many things in life, the development certainly felt some pandemic delays. But Pennington noted that good Wi-Fi in the Canadian garden and adapting to Zoom quickly helped make things as smooth as they could be given the circumstances of a border on lockdown for much of the development cycle.
"It's taken quite some time," Pennington said.  "We had to go through all of the legal rigmarole. It's always a mixed blessing, the whole legalization thing, because it just comes with this unbelievable amount of red tape."
HSC's Chief Science Officer Ben Lind inspects the crop. [Photo: Mike Rosati]
Having cannabis legal, at a federal level, in Canada was a little bit of a contrast to what Pennington had been dealing with in the U.S.
Here is a comparison of what the packaging has to look like in Canada compared to California on the right.
We asked him how crazy it was to have to leave the country to have a legitimately organic certified offering. "Right? Exactly," Pennington said laughing.
He explained he only had minimal apprehension about how removed he was from the process up north since he has a lot of faith in the Samuelsons. Plus, it's something he's had to come to terms with doing on a daily basis as the company has grown into what it's become.
"Like any business, you build this team that you have to have faith in," Pennington said. "And hopefully you actually really do have honest to goodness faith in those individuals."
But even then, he would presume those around him would claim he tries to be involved in nearly everything at HSC. "'I'm kind of constantly trying to sort of inject myself into too many roles or whatever. I certainly might do that," he said. "The one thing that I have not held any attachment to has been taxes. I'm just like, 'Oh my God, I trust you and you can do this. You're amazing. You're my fucking hero.'"
A big part of the whole HSC Canada tale starts with the Samuelsons being decent people. We asked how hard it is to find the good ones that you want to work with versus those who show up in America's cannabis production epicenter just trying to just sponge up info and peace.
"Yeah, well, there's been those folks," Pennington replied. "I think it's really just a vibrational thing, you know? You end up kind of sort of knowing. This stuff at some point just gets so technical and it's like more work to fake it."
The con man can only get so far in the garden?
"Exactly. You can only bullshit so far. I mean, I think that's one of the great things about being out in Humboldt," Pennington said. "I'm sure you've seen murder mountain, and I'm sure you've heard stories. You know it still does have that Wild West thing a little bit and I don't know, maybe we've been fortunate or maybe our circle tends to be a real community-oriented one, but knock-on wood, we haven't had any craziness like that."
Ben Samuelson [Photo: Betsy Samuelson]