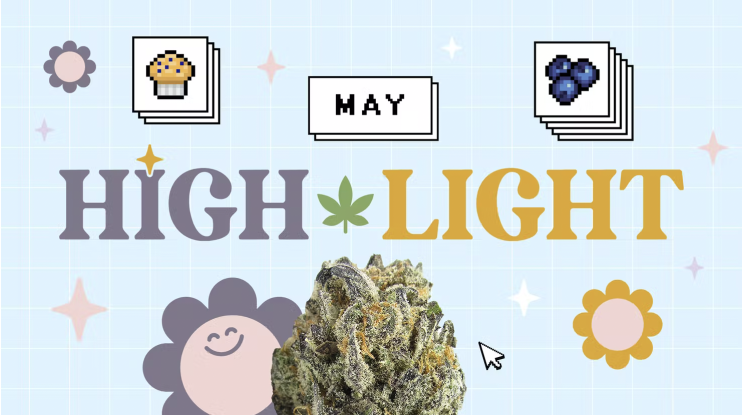 May's Leafly Highlight is Blueberry Muffin fresh out the oven
May 3, 2022
Each month, Leafly highlights a popular, trending strain you should know about—we call it Leafly HighLight. This month: Blueberry Muffins in every bowl.
Where are my breakfast bakers at?
US smokers who love baked goods in the morning should order up a fresh batch of Blueberry Muffin—our Leafly Highlight strain for May. This top 200 strain in stores from coast to coast serves authentic, buttery, baked, berry flavor with zero calories. It's brain carbs for that happy, satiated feeling.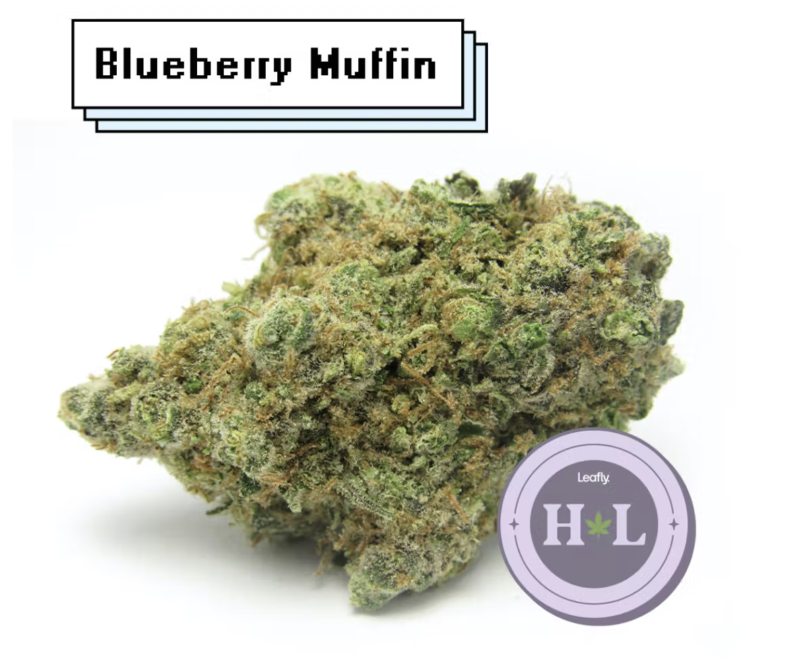 Blueberry Muffin has 252 reviews on Leafly and an average score of 4.6 out of 5. Critics confirm the stuff smells like actual frickin' blueberry muffins. All those smokers who've been trapped in states where weed is just 'weed'—prepare to have your tastebuds blown.
This high-THC hybrid's effects are versatile and can lift mood, or lessen stress. Blueberry Muffin neither spaces folks out like some sativas, nor couch-locks them in like a big indica. That's why it now ranks as a top 200 strain on US shelves.
"Taking this I was just expecting to chill out and watch some movies, but my mind was super active. I spent the whole high developing ideas for my writing," said one reviewer.
"A fantastic 'light' indica that gently calms the nerves and the busy mind without being thick or sedating or couch-locky," said another.
Do some Ganja Yoga, Puff Pass Paint, journaling, or other hobbies.
"I wouldn't call it a daytime smoke and definitely not a before-work lifter, but for slower, low-stress, low-risk afternoon and evening leisure activity it is SPOT ON," said one reviewer.
There are stronger strains out there for heads, but the aroma impresses everyone.
"Good bud for amateurs and connoisseurs alike," says another reviewer.
How much does Blueberry Muffin cost?

Blueberry Muffin is cooking nationwide. Big weed brands rely on it for both flavorful pre-rolls and extracts. You don't see a lot of exotic pricing for Blueberry Muffin, either. Instead, expect a fair amount of bargains, like $30 ounces of it Oregon. Pre-rolls go for $6 in Michigan. Massachusetts stores sell eighth-ounces as low as $35. That's great for terp-lovers in every tax bracket.
Blueberry Muffin flower spot prices around the US (Source: Leafly Menus)
Blueberry Muffin seeds

Blueberry Muffin continues to grow nationally because of its fabulous genetics from a top breeder. Humboldt Seed Co crossed Blueberry x Purple Panty Dropper x Razzle Berry, and refined the strain for over ten years. The Blueberry Muffin genetic offers a go-to chassis for building a high-performance strain in 2022. You can tap in with Blueberry Muffin seeds from Humboldt Seed Co—sold in dispensaries in California, and online globally. Throw it in the ground and it'll pretty much crush it on its own. California's leading nursery Dark Heart also sells clones of it ready to go into your garden, like, today. Planting season has begun—so don't wait
Blueberry Muffin awards

Even the pros have nuthin' bad to say about the Muffin. Blueberry Muffin keeps racking up trophies: a 2021 Oregon Grower's Cup 1st place in cartridges and BHO; a 1st place finish in the Netherlands in 2019.; and a 6th and 11th place finish in The Emerald Cup. Again, the strain's vivid aroma translates to tasty extracts.
Blueberry Muffin terpenes

Humboldt Seed Co. reports that great examples of Blueberry Muffin will have a lot of the smell molecule myrcene along with bisabolol, caryophyllene, humulene, carene, and linalool. You'll see myrcene adding a big body to the smell of Tangie and Squirt, as well. Leafly lab data reports caryophyllene dominates in Blueberry Muffin samples. But each batch differs, and not all terpenes are created equal. Some terps have outsized smells or effects, researchers say.