Wade's Laughter: A Worthy Tribute to a Nevada County CBD Pioneer
By Ashleigh Hines
In 1995, Wade Laughter was diagnosed with an aggressive case of glaucoma. Shortly after beginning treatment, he fell violently ill from the very eye drops prescribed to combat the debilitating disease.
A year later, he would be qualified as a medical cannabis patient under California's recently passed Prop 215, and his life would take a drastic turn — for the better.
Whether he knew it at the time or not, it was this series of events that would spur Wade Laughter's near-quarter-century-long commitment to the expansion of accessible medical cannabis and CBD education.

Since 1999, Wade has been an activist for medicinal cannabis, and one of Nevada County's first CBD pioneers; even going so far as to create his own medical co-op, House of Harlequin, alongside co-Founders: Brandy Reaves and Monica Senter.
Together, they enlighten and direct those within the cannabis community on producing and consuming CBD, while also ensuring proper medicine is available to the surrounding Nevada County community in need. A noble, and much-needed service as public popularity for CBD grows and misinformation along with it.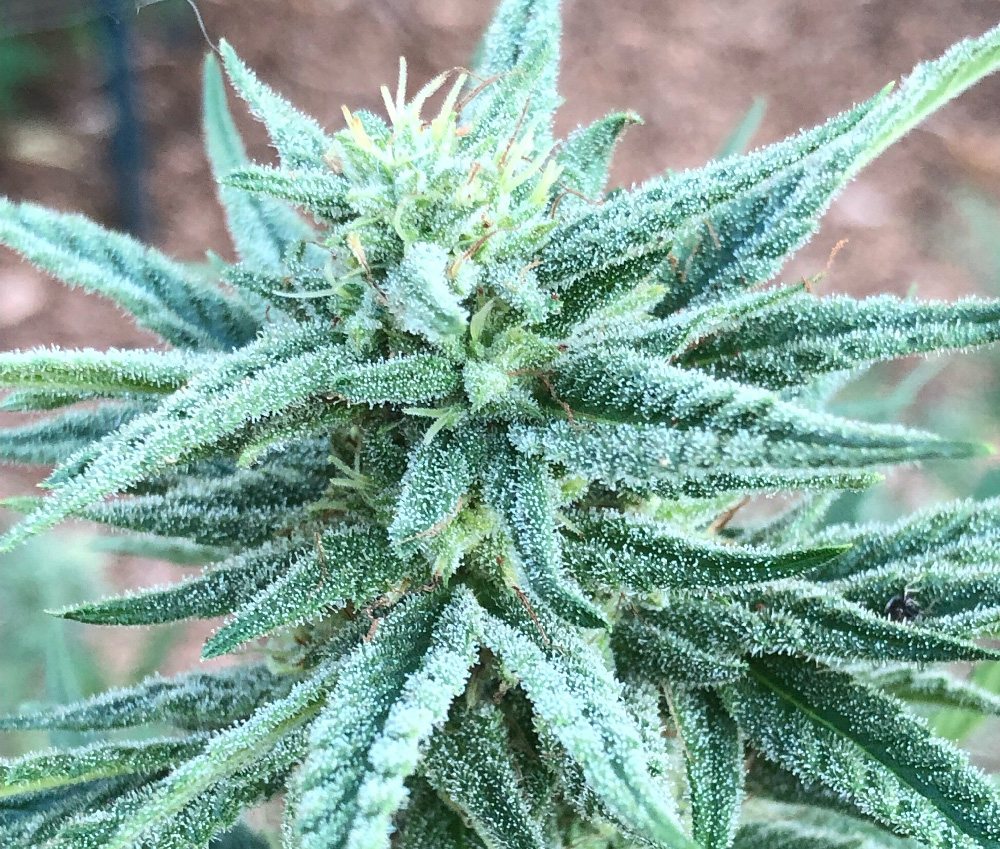 A flowering cannabis plant from Wade Laughter's garden
By now most adults have heard of CBD or cannabidiol — the essential, non-psychoactive component found in cannabis plants that offers promising health benefits. However, with CBD showing up in anything from sports bras to bath bombs to FDA-approved epilepsy treatments, it's easy to see why legitimate uses of this complex cannabinoid can be difficult to understand.
While Laughter's passion for education and accessibility may have been cultivated at the House of Harlequin, this was only the starting block for the impact he would have on the industry at large.
An Advocate for Change
High Times magazine has recognized Wade and his impact on the cannabis industry multiple times. The first time they highlighted him as a master cultivator was in 2008 and for a second time in 2020 as a 'key player' within the CBD revolution.
In 2010, Wade Laughter, Fred Gardner, and four other cannabis journalists came together to create @project_cbd, "a California-based nonprofit organization dedicated to promoting and publicizing research into the medical uses of cannabidiol (CBD) and other components of the cannabis plant." – (Projectcbd.org) Their educational services reach physicians, dispensaries, and millions in the general public alike.
Currently, Wade sits as Board Chair for the Nevada County Cannabis Alliance, advocating regularly for reasonable cannabis policy. He's also an active board member for the International Cannabis Farmers Association, where he earnestly supports the sungrown cannabis community. Additionally, he and House of Harlequin serve as a prominent component within the Nevada County Compassion Program; a completely free, 100% donation-based cannabis program for medicinal users.
But his involvement in the cannabis industry doesn't end there.
Wade's Laughter: A Celebration of Compassion & Collaboration
Since first visiting their Nevada County Nursery in 2018, Wade has been working with the breeders at Humboldt Seed Company to develop 'Wade's Laughter' — an exciting CBD trifecta that originated from CBD plant cuttings from Wade's very own compassion garden.
Although intimately involved in the project from the start, Laughter explains, "The actual work of tracking the breeding of these plants was done by the folks at Humboldt Seed Co. in conversation with me. I can take no credit for creating this specific cross. But I do consider her name to be a sweet tribute to the work I have done in seeking cultivars that benefit those who need cannabis. These genetics will result in cannabis that will help the consumer feel good. Especially for folks who feel today's cannabis is too strong for their tastes — this is the plant for them."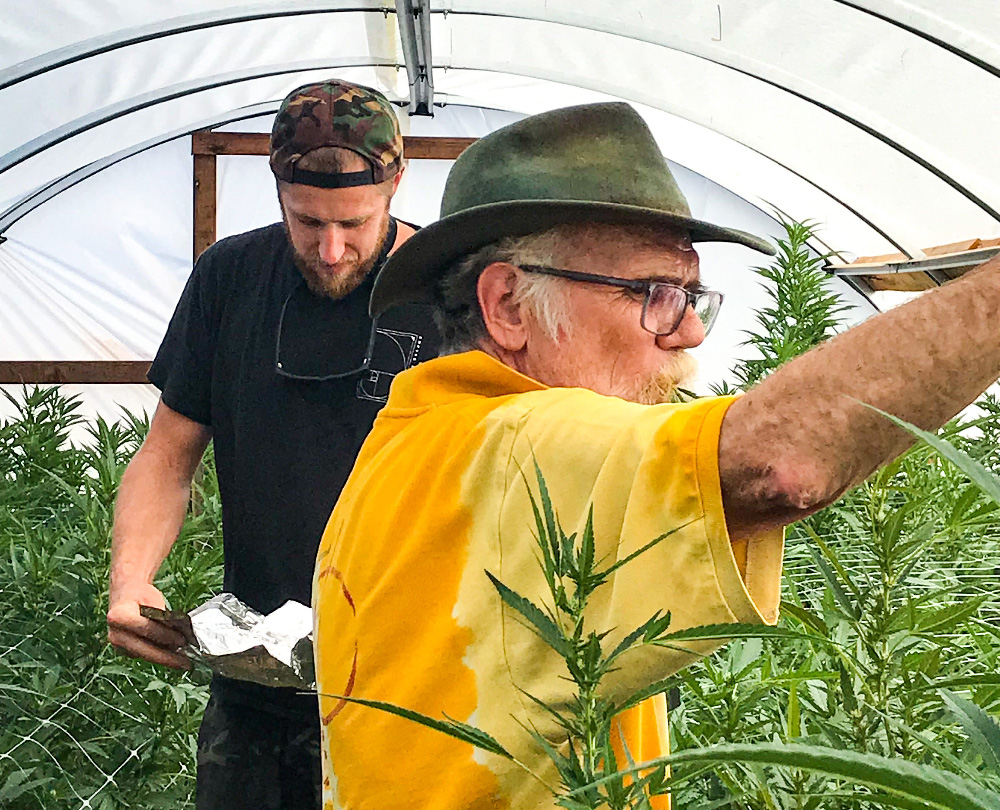 Ben Lind (Left) and Wade Laughter (right) spread pollen in a breeding tent at Humboldt Seed Co.
Rich Genetics
Much like the numerous benefits provided to the industry by the man himself, Wade goes on to detail the rich genetics, flavors, and effects patients can expect to experience from the strain that bears his name.
"In Wade's Laughter, there are two proven CBD-rich producers: Willie G's Lebanese is one of them. She does well here in our area and is a reliable producer. Ringo's Gift is another proven producer I have worked with for years. She has been a benefit to many of the folk we worked with since my good friend Laurance Ringo developed her and released her in 2015 [around the time of his passing]. Ringo's Gift has a wonderfully soothing effect and is helpful with pain."
He goes on to say, "The other two parents [in Wade's Laughter] are strong reliable producers of THC cannabis that do well here in Northern California." but out of respect for the breeders, he wouldn't elaborate any further.
"…revealing the entire package of breeder's choices in making crosses is a form of intellectual property so I won't get too specific. I will say, however, that the THC parents bring earthy Kush notes with undertones of sour candy and pine trees."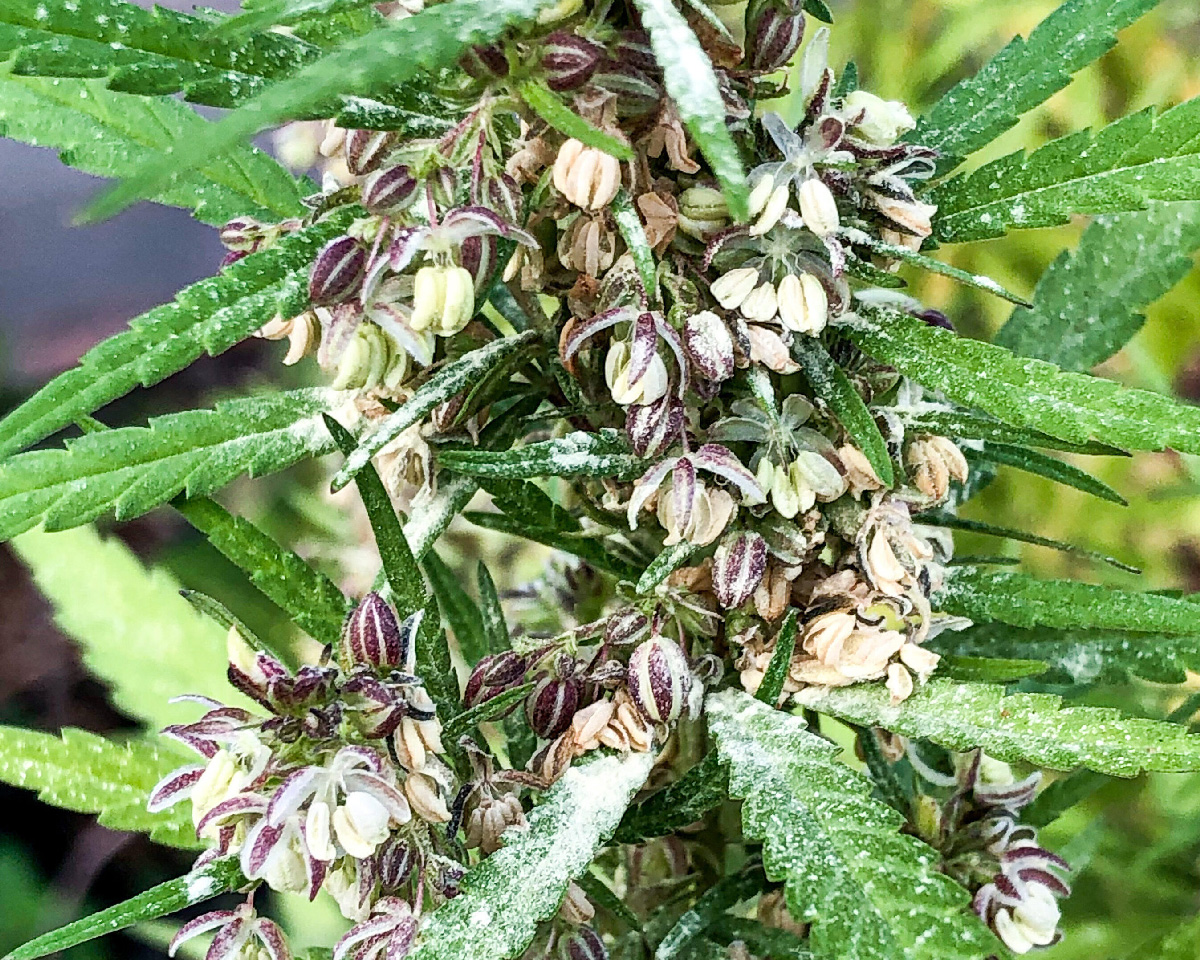 A male cannabis plant Wade Laughter used in 2008
Longtime supporters of CBD-rich cannabis may also notice some similarities between Wade's Laughter and another celebrated strain, Harlequin.
"The combination of genetics in these feminized seedlings should result in most of the plants being rich in CBD and THC, not unlike the original Harlequin. The terpenes will be uplifting yet earthy, grounding, and soothing. Sounds like what we could all use in these challenging times!"
It is without a doubt that Wade has greatly impacted and noticeably shaped the cannabis community we have today. And his efforts for advocacy will be felt and appreciated by future generations to come. Thank You Wade for everything you have done, and continue to do for the medical cannabis industry.