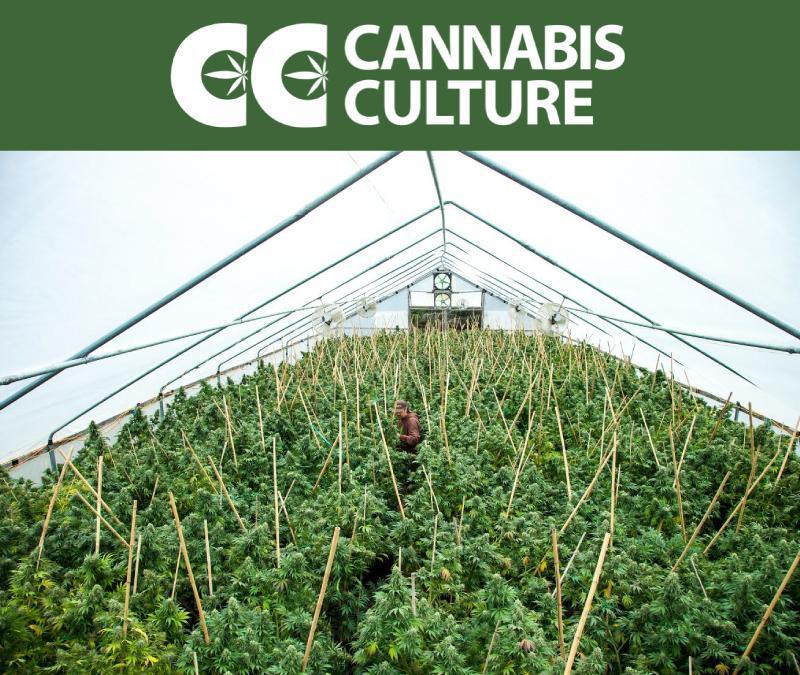 Humboldt County Grows On
CANNABIS CULTURE – Despite dubious hemp ban.
California's cannabis mecca, Humboldt County, banned hemp farming last month, but local cannabis and hemp growers know this issue is far from over. 
"What's the rationale here? If people are growing feminized hemp flower, there should be no problem," says Chris Boucher, CEO of Farmtiva, a hemp seed and flower producer.
The Humboldt County Grower's Alliance (HCGA) told the Board of County Supervisors in a letter that cross-pollination was one of the reasons why industrial hemp should be banned from the county. In their letter, the HCGA cited a 2019 article that said about 8% of Oregon's cannabis crop had been lost to pollination due to increased hemp cultivation.
Boucher's greenhouse in southern California grows hemp seed but pollinates in a controlled environment. Boucher understood this ban was about halting licenses for industrial hemp grown for fiber on a mass scale, however that is not the only kind of hemp.
Hemp is defined as Cannabis sativa where THC is under 0.3%. Boucher explained that hemp can be broken down into two categories called boutique and industrial hemp. Boutique hemp is used for CBD extracts and flowers whereas industrial hemp is for fiber and seed production.
The problem is that both boutique and industrial hemp do not have to be part of California's metric system, which tracks the seed to sale of every cannabis plant.
"If you look across the street, the gas station is selling it, the pet store is selling it, the health food store is selling it. Everyone is selling [CBD] except for the dispensary," Boucher says, "These retail dispensaries are losing a lot of money because they're not allowed to sell hemp because it's not in the metric system."
"For me, the fact that the county voted against it because they couldn't figure out how to create the regulations properly was really tragic," says Josh Hanna, CEO of Humboldt CBD.
Hanna has multiple storefronts in the Humboldt city of Arcata, and sources all of his CBD from local hemp farmers. Farmers can grow boutique hemp if it is registered as high-CBD cannabis in the metric system.
Hanna says industrial hemp doesn't make sense for Humboldt, but that boutique hemp has always made sense. He said at one point the HCGA stated they would be okay with one acre of boutique hemp. "That's basically what we were advocating for the entire time. Because Humboldt county has a position as the historical birthplace of these female CBD hemp genetics."
Lawrence Ringo, an original grower of Humboldt, was one of the first people to start breeding high-CBD strains like Harle-Tsu, Sour-Tsu, Sour Tsunami, Canna-Tsu, and Ringo's Gift. According to Hanna, Ringo was probably the first person to create a library of CBD genetics, "…that everybody in the industry knowingly or unknowingly pull from."
Dave Sandomeno of Sunrise Mountain Farms said hemp strains were born through the culture that was found in Humboldt county and is still there. "People who grow cannabis for the love of it. For the love of the plant, for the love of the medicine."
Sandomino has one "staple strain" that is a 2:1 CBD to THC, which he grows and must keep under the metric system. But he says the 7% THC doesn't make it a hemp variety and therefore he does not have access and range like the CBD marketplace.
Jason Miller of Kiskanu Cannabis has been selling CBD but gets it from farms around the United States. "As a manufacturer who utilizes domestic hemp concentrates mainly in our products, it's become significantly easier and cheaper to source those products from accredited labs and farms across the country because there's just been so much production that the value of the crop has gone down exponentially since we started a few years ago."
As a cannabis grower in Humboldt, he says it is better for the county to focus on cannabis rather than hemp. "The farmland of Humboldt County can't compete with the Central Valley or the plains states of the United States where they have thousands and thousands of acres of flat land."
Riley Laughton of Highline Nursery said unlike other counties in California, where cannabis is a smaller part of the economy, Humboldt is dominated by cannabis. "If hemp was allowed like it is being allowed in other places that don't have this concentrated of cannabis growth, it could be detrimental to the success of a lot of farmers."
"There are huge hurdles and major hoops to jump through to cultivate cannabis if it has a certain amount of THC. And then if it doesn't have a certain amount of THC in it, it's basically like growing corn," said Nat Pennington, CEO of Humboldt Seed Company.
Pennington said it was looking like there could be 20,000 acres of hemp growing in Humboldt county with almost no regulation right next to cannabis farms, which according to Pennington, operate under the strictest environmental laws for agriculture in the world.
To get a license to grow hemp requires approval by the county agricultural commission and a $900 fee. "We literally spend hundreds of thousands of dollars every year just to be able to operate legally in the state of California as a cannabis seed company," Pennington says.
He thinks that there could have been more people meeting halfway. He wanted to see a process that made sure people were growing only feminized hemp seeds, but the problem is there is still no stable market. "There's rampant lawsuits that have happened in the past two or three years about companies that were falsifying their seeds as being feminized and it turned out they weren't."
Hanna says there are already problems without hemp, describing advertisements on the freeway of companies that will de-seed cannabis harvests. "If a business can run and pay for advertising on billboards where they're de-seeding people's cannabis it means that pollination and pollen drifts are already a problem."
Boucher operates all indoor grows, "I'm worried about the marijuana kid in one of the neighborhoods two blocks away."
Boucher wants to get the local agriculture commissioner to produce pollen drift maps that show prevailing winds like the onion industry does with outdoor fields. "Both of these products are going to coexist no matter what. So if they coexist then there should be at least some kind of program that lessens that chances of cross-pollination by divulging pollen maps and who's growing where."
For hemp and cannabis to coexist in Humboldt, Sandomino said they must be held to the same standard, "All of us small farmers have been put through the wringer the past five years getting ourselves compliant and following all of these regulations and then all of a sudden you have industrial hemp come in and they don't have to follow these regulations for a plant that's basically the same plant."
"Humboldt has always been central to cannabis innovation," says Pennington. "You have everything from sinsemilla to light deprivation to bubble hash; all of these major cannabis innovations, and of course the genetics, including Ringo's gift." However, Pennington says the legal regulation of THC-cannabis in Humboldt is still in its infancy stages.